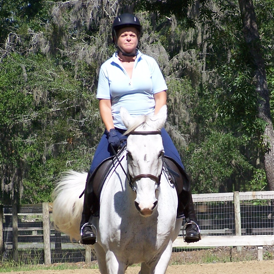 Name: Annie Floramo
DOB: November 24, 1964
Discipline: Para-Dressage
Classification: Grade 2
Region: Region 3
Address:  Ocala, Florida
E-Mail: Drsgdiva@yahoo.com
Annie Floramo did not ride for the first time until she was 42.  After looking for something new to try, a neighbor encouraged her to go and meet her horse one day.  That barn did not have a horse for a new rider to sit on, so, after a few weeks of investigation into riding lessons, Annie was fortunate to have found Debbie Lockemeyer, owner of Pegasus Dressage in Shortsville, New York.  As an accomplished rider, trainer, instructor and contributor to Dressage Today, Debbie was willing to take on an adult with no riding experience, who also had a neuromuscular disease, Charcot Marie-Tooth. "When I met Debbie, I had never heard of Dressage, and knew absolutely nothing about horses beyond that they liked apples and carrots.  Her infinite patience, inspiration and encouragement taught me the importance of good horsemanship, a good seat and quiet hands.  I was a very timid and anxious rider.  Debbie kept chipping away at my fears on the end of the lunge line until I began to gain more and more confidence.  Most important, she laid the foundation that I could continue to build upon."  "I remember the day in the arena, when mounting Artisan, I admitted to Debbie that it was my dream to be able to show someday.  She assured me it could happen with dedication and a lot of time in the saddle. "
After moving to Ocala, Florida in 2010, Annie was once again fortunate to find Pat Eidel-Schmoll, owner of Broad Meadow Farm in Ocala.  Pat is also an accomplished dressage rider, trainer and coach.  The transition from working with Debbie to working with Pat was seamless.  Pat began building upon the foundation that was formed working with Debbie, and within a few months, Pat was looking for a mount that would become a true partner.  Enter Red Desert Grit, also known as Teddy. Teddy is a wild mustang registered with the bureau of land management from Nevada owned by Carol Reeve of Lake Worth, Florida.  Carol was gracious enough to allow this sweet horse, with an excellent work ethic to become Annie's new partner. "Under the coaching of Pat, I have continued to grow as a rider and a horseman.  Pat's ability to "think outside the box" has allowed us to find ways to compensate for the deficits I have and the challenges it brings.  I am no longer an anxious rider, and have learned a lot about the care and training of horses from Pat. She is always willing to have me come along as she trains both horses and students, and is always looking for new things and ideas to advance my riding abilities."   Annie and Pat are continuing to work on new movements and gymnastics to keep the training fresh and interesting, and working toward goals.  Pat also invites other trainers to come out and run small clinics for her students.  "Sometimes, hearing the same thing framed differently becomes a light bulb moment".
While my horse Teddy and my trainer Pat make up most of the team, without my husband Paul, none of it could come together.  While you would not likely find him ringside, you will always find him exactly where I need him the most.  Beside me always, supporting my dream and goals, behind me when I need a little push, and waiting at the door when I tumble in at the end of a tough training day with a smile, a kiss, and a high five!
I am really looking forward to becoming more competitive within the Para Dressage Discipline.  Currently my scores are in the low 70%.  As most of us, I also struggle the most with funding issues to travel to other areas of the country to move up the ranks.  I have the horse, the ability, the coach and the desire to compete at the National and International levels.  Should you have sponsorship/scholarship/donations available, please contact me at the above e-mail address.