United States Para-Equestrian Association
Media Contact: Lindsay McCall -Lindsay@uspea.org -USPEA, 3940 Verde Vista Drive, Thousand Oaks, CA 91360- www.USPEA.org
Horse Radio Network Features Todd Flettrich and Shannon Dueck   
Jupiter, FL –March 3, 2015- Horse Radio Network's once-a-month Para-Equestrian Show featured Todd Flettrich and Shannon Dueck with
hosts Lindsay McCall from the United States Para-Equestrian Association (USPEA) and co-host Regina Cristo. To listen to episode #300 please visit: http://www.horseradionetwork.com/2015/02/26/dressage-radio-episode-300-by-uspea-dressage-partnerships-with-flettrich-and-dueck/
Todd Flettrich:  From being an Olympic contender to coaching some of the best riders in the world to international success, Flettrich is a veteran of the competition arena and sought-after trainer and mentor.
A native of New Orleans, Flettrich began his dressage career at a young age and won individual gold and team silver in the 1991 North American Junior/Young Rider Championships (NAJYRC). He went on to coach Catherine Malone to the individual gold as a Junior and Young Rider
In addition to riding against the best in the world, he has helped other riders achieve success, and continues to train Margaret Duprey.
Todd Flettrich is a veteran competitor and trainer at the FEI levels of dressage. He began riding at the age of 12 and trained with such wellknown horsemen as Jessica Ransenhousen, Robert Dover, Odet Shimoni, Sue Malone Casey, Steffen Peters, Kathy Connelly, Christine Traurig and Hubertus Schmidt.
Flettrich served as Region 1 Coach and Chef d'Equipe at the NAYRC from 1988 through 1994. He earned his United States Dressage Federation (USDF) Silver and Gold Medals and is also a graduate of the USDF 'L' (Learner) Judge Program.
In 2010 he rode Otto, owned by Cherry Knoll Farm, during the Alltech FEI World Equestrian Games in Lexington, KY. In 2012 Todd qualified with Otto as the alternate of the United States Dressage Team for the London Olympic Games.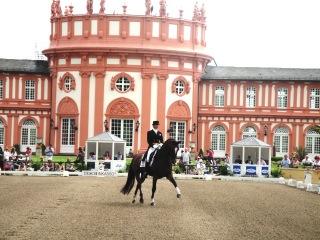 Shannon Dueck: Born in Austin, Texas, Shannon grew up outside of Vancouver Canada.  Her mother Jacqueline Oldham was an "S" dressage judge in both Canada and the USA, and instilled in Shannon a love and knowledge of classical dressage from an early age.  Shannon was lucky enough to grow up with horses in her backyard, and evented to Intermediate level as a teenager, as well as show jumped and worked on the Thoroughbred racetrack.  She went through the Pony Club levels to attain her "A" status at the age of 18, and also got her Canadian Coaching Level 2 status.
After completing a Bachelors degree in Animal Science at the University of British Columbia and a Masters degree in Equine Nutrition and Exercise Physiology at Texas A&M University, she went on to become faculty at Lakeland College and Olds College in Alberta, Canada, and then moved to Massachusetts with her husband Lorne to take up a faculty position at Johnson & Wales University.
In 1994, Shannon spent many months training in Holland as a working student for Bert Rutten – this was when she decided to get serious about dressage.  She rode in her first international competition in 1995 in California, and was long-listed for the Canadian Equestrian Team in 1996 with her mother's Madison.  In 1995 she sold her last event horse and bought her first real star, Korona, as a 3 year old from Bert Rutten.
Shannon trained Korona from the beginning.  The partnership was very successful, beginning with an Individual Silver Medal at the Pan Am Games in 1999, they never looked back.  Korona and Shannon represented Canada successfully at the Grand Prix level for many years.  In 2002 at the World Championships in Spain they were the top Canadians, finishing 23rd in the Grand Prix and 25th in the Grand Prix Special.  After winning the Canadian League World Cup Final in 2002, they represented Canada at the World Cup Final in Sweden in 2003.  In 2003 they were also a part of the Canadian Team at the Open European Championships in England, which secured an Olympic berth for the Canadians at the 2004 Olympic Games.  In 2004 they had a very successful training and competition tour in Holland, Germany and Austria, but did not get to represent Canada at the Olympics – Korona was ill during the Canadian Olympic Selection Trials.
Since those days,  Shannon has been busy training other horses and riders from Training level to Grand Prix.  The many horses she has trained to the FEI levels and competed successfully on include Leoliet, Pegasus, Amazing, Ringo Starr, Control IV, S Infinity, and Sentimiento II.  She absolutely loves teaching her students both at home and at the shows,  and many of her students have been with her for years.
It took her many years to find her next international superstar, but she bought Ayscha in Germany from a friend as a 6 year old. Ayscha was supposed to be sales project, but Shannon soon found out that she had talent for Grand Prix, and decided to keep her and develop her as far as possible.  With very limited show experience, Ayscha began Grand Prix in 2010 as a 9 year old.  Shannon and Ayscha were part of the Canadian Team which traveled to Europe with Robert Dover and they competed successfully in many international shows in Germany that summer.  In 2011 Ayscha and Shannon headed to Great Britain to train with Carl Hester,  where they competed at Hickstead and London Olympia as well.
Shannon has had wonderful coaching all her life,  from the very beginning with Klaus Albin and Dietrich Von Hopfgarten in Langley British Columbia with her event horses.   In her adult life she has had extensive help from Bert Rutten of the Netherlands,  Lars Peterson of Denmark,  Kathy Connelly, Robert Dover and Steffen Peters of the USA,  Hubertus Schmidt and Wolfram Wittig of  Germany, and most recently,  Carl Hester of Great Britain.
List of Para-Equestrian Radio Shows:

Para-Equestrian Show #300  
http://www.horseradionetwork.com/2015/02/26/dressage-radio-episode-300-by-uspea-dressage-partnerships-with-flettrich-and-dueck/ 
Para-Equestrian Show #296
http://dressageradio.horseradionetwork.com/2015/01/27/dressage-radio-episode-296-para-dressage-trainer-brendan-curtis-and-global-dressage-festival-wrap/   
Para-Equestrian Show #283
Para-Equestrian Show #278
http://dressageradio.horseradionetwork.com/2014/09/25/dressage-radio-episode-278-para-dressage-wraps-2014-weg-with-sydney-collier-and-coach-wes/  
Para-Equestrian Show # 270   
 
Para-Equestrian Show # 265
Para-Equestrian Show # 259
Para-Equestrian Show #248
Para-Equestrian Show #244
Para-Equestrian Show #235
http://dressageradio.horseradionetwork.com/2013/11/25/dressage-radio-episode-235-reining-into-para-dressage/ 
November 1, 2013- Para-Equestrian Show #231
http://dressageradio.horseradionetwork.com/2013/11/01/dressage-radio-episode-231-para-dressage-horse-ownership-and-training/ 
September 25, 2013- Para-Equestrian Show #226
http://dressageradio.horseradionetwork.com/2013/09/24/dressage-radio-episode-226-becca-hart-and-missy-ransehousen-on-the-future-of-para/  
August 28, 2013- Para-Equestrian Show #222
http://dressageradio.horseradionetwork.com/2013/08/28/dressage-radio-episode-222-set-up-before-you-trot-up/
July 31, 2013- Para-Equestrian Show #218
http://dressageradio.horseradionetwork.com/2013/07/31/dressage-radio-episode-218-developing-para-dressage-young-riders/  
June 27, 2013-Para-Equestrian Show #213
http://dressageradio.horseradionetwork.com/2013/06/27/dressage-radio-episode-213-para-week-goes-driving/  
May 24, 2013-Para-Equestrian Show #208
http://dressageradio.horseradionetwork.com/2013/05/24/dressage-radio-episode-208-the-maine-event/  
April 4, 2013-Para-Equestrian Show #204
http://dressageradio.horseradionetwork.com/2013/04/25/dressage-radio-episode-204-kristi-wysocki-and-gil-merrick-discuss-judging-the-team-approach/ 
March 27, 2013-To listen to the the first Para-Equestrian show #200:
Once a month the Dressage Radio Show becomes the Para-Equestrian Show Hosted by Lindsay McCall, of the United States Para-Equestrian Association, focusing on 
international FEI discipline Para-Dressage. Although Para-Dressage is the main event, listeners have the opportunity to learn more about the skillful U.S. Para-Driving Team, the Para-Reining discipline, Para-Vaulting, and the future of Para-Jumping. The para-equestrian dressage show will feature a line-up of guests including olympians, paralympians, trainers, coaches, professionals, amateur riders, young riders, and equine enthusiasts. The intention of the radio show is to educate, inform, and entertain listeners on the para-equestrian Dressage discipline.
To learn more about the USPEA please visit www.USPEA.org or e-mail President Hope Hand at hope@uspea.org. You may also e-mail the host of the para-equestrian segment Lindsay McCall at Lindsay@uspea.org.
To learn more about the Horse Radio Network visit www.horseradionetwork.com or to contact Glenn the Geek go to http://www.horseradionetwork.com/contact/ or leave a voicemail at 270-803-0025.
About the Horse Radio Network:
The Horse Radio Network is the voice of the horse world with listeners in over 40 countries. Eight different entertaining shows cover all aspects of the horse world and you can listen any time on your computer, MP3 player or smart phone.
We believe that people own horses for fun and entertainment. Why else would you
put up with the early morning feedings, stall cleaning, vet bills, long trips to shows,
empty bank accounts and everything else that goes with being a horse owner.
Our goal with these shows is to help your chores go a little faster and to put a smile
on your face!  Learn more at www.HorseRadioNetwork.com
HORSES IN THE MORNING live M-F at 9am Eastern at www.horsesinthemorning.com
.
Fantastic weekly shows:
Driving Radio Show at www.drivingradioshow.com
Equestrian Legends at www.equestrianlegends.com
Stable Scoop Radio Show at www.stablescoop.com.
Eventing Radio Show at www.eventingradio.com.
Dressage Radio Show at www.Dressageradio.com.
Horse Tip Daily at www.horsetipdaily.com
Western Radio Show at www.westernradioshow.com
About the United States Para-Equestrian Association:
The USPEA is a network of riders, judges, national federation members, and equestrian enthusiasts.  The association gives athletes the ability to get involved and expand their knowledge and experience in the Para-Equestrian sport. The USPEA encourages Para-athletes to participate in all disciplines under the Para-Equestrian umbrella.
The USPEA is a recognized affiliate of the United States Equestrian Federation (USEF) which serves as the National Governing Body for the equestrian sport.  This relationship between the USPEA and USEF is to encourage Para-Equestrian competitors, leisure riders, coaches, fans and enthusiasts to network and get involved with the entire equestrian sport.
Ultimately the goal of the USPEA is to foster growth in the Para-Equestrian discipline.  From growth in the number of participants to growth as a team, and growth in the experience and knowledge of all involved.  From local horse shows to international Paralympic Games, the USPEA provides Para-Equestrians the knowledge and resources needed to succeed.  The USPEA connects with the International Olympic Committee (IOC), the Federation Equestre Internationale (FEI), the United States Dressage Federation (USDF), USA Reining, and USEF which provide Para-Equestrians the top equestrian resources.
In June 2010, the USPEA earned its 501 (c)(3) status which has encouraged supporters to help supply funding to the Para-Equestrian Team as a recognized affiliate of the United States Equestrian Federation(USEF). 
For more information about the USPEA please visit www.USPEA.org or contact USPEA President: Hope Hand by e-mail: hope@uspea.org or by phone: (610)356-6481.
Photos and Articles Copyright(c) 2014 United States Para-Equestrian Association. All Rights Reserved.
If you have received this e-mail and no longer wish to receive any e-mails regarding the USPEA please click on the Unsubscribe link below.  USPEA will only send e-mails that are news related to the USPEA.