USPEA PROMOTIONAL VIDEO: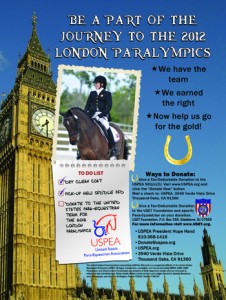 USPEA Advertisement for 2012 London Paralympics: Please download this here (PDF)
ABOUT THE EQUESTRIAN PARALYMPICS (courtesy of FEI)
The Paralympic Equestrian events take place in London, England at Greenwich Park August 30-September 4, 2012.
Host nation Great Britain, Germany, Denmark and Canada have qualified the maximum number of riders and will each be represented by a team of four and one individual.
Nine countries – USA, The Netherlands, Brazil, Ireland, Italy, Belgium, South Africa, Australia and France – have qualified four riders.
The National Paralympic Committees (NPCs) of Singapore and Mexico, which had originally qualified four riders, returned one qualification slot each and will be represented by three-rider teams. The unused slots were re-allocated to Norway and Israel on the basis of the Individual Para-Equestrian Rankings of athletes not already qualified with a team. As a result, Norway, which had already qualified two individual riders, will be fielding a composite team consisting of three members.
New Zealand and Finland will be represented by two individual riders apiece. Bermuda, Argentina, Japan, Hong Kong and Austria have each been allocated one individual slot.
Three Bipartite Commission invitations have been issued to Thomas Haller of Austria, Lee Frawley of the Virgin Islands and Anita Johnsson of Sweden.
The nominated entries will be published on 18 June 2012 and definite entries on 6 August. A total of 78 Para-Equestrian riders will be battling it out for the 11 sets of medals available. The detailed list of qualified nations is available here.
SUMMARY:
26 nations – ARG, AUS, AUT, BEL, BER, BRA, CAN, DEN, FIN, FRA, GBR, GER, HKG, IRL, ISR, ISV, ITA, JPN, MEX, NED, NOR, NZL, RSA, SIN, SWE, USA
TEAMS
4 nations with 5 riders (team + 1 individual): CAN, DEN, GBR, GER
9 nations with 4 riders (team): AUS, BEL, BRA, FRA, IRL, ITA, NED, RSA, USA
3 nations with 3 riders (team): MEX, NOR, SIN
NATIONS REPRESENTED ONLY BY INDIVIDUALS
2 nations with 2 individuals: FIN, NZL
6 nations with 1 individual: AUT, ARG, BER, ISR, JPN, HKG
3 Bipartite Commission invitations: AUT, ISV, SWE
Photo Credit: Photographs taken at the 2012 USEF Paralympic Selection Trials and 2012 USEF Para-Equestrian Dressage Natonal Championships in Gladstone, NJ.  The Trials and National Championships are scheduled June10-13, 2012 at the USET Headquarters. Photo © Lindsay Y McCall for the United States Para-Equestrian Association.
*All logos, phrases, and words representing the Paralympics, London 2012, London Olympics,
Olympics, and any combination referring to the Paralympics or Olympics are property of the United States Olympic Committee and the 2012 London Olympic Games.
A
s many high performance athletes, Para-Equestrian's require an endless amount of support.  From monetary donations to horse donations, these factors are essential in the growth of the sport.
Not every para-equestrian rider has the four-legged partner necessary to compete at the international level.  Therefore, past dressage champions, top equines in dressage, and even eventing horses have been used for a para-equestrian rider.
Para-Equestrians compete from the walk-trot level to Grade IV which requires walk, trot, and canter movements and transitions.  If you would be interested in donating a horse to a para-equestrian please contact Hope Hand.
Click the image below to contact Hope Hand:

Materials:
To view the USPEA Brochure you may click here (PDF)
To view the USPEA one-page flyer you may click here (PDF)