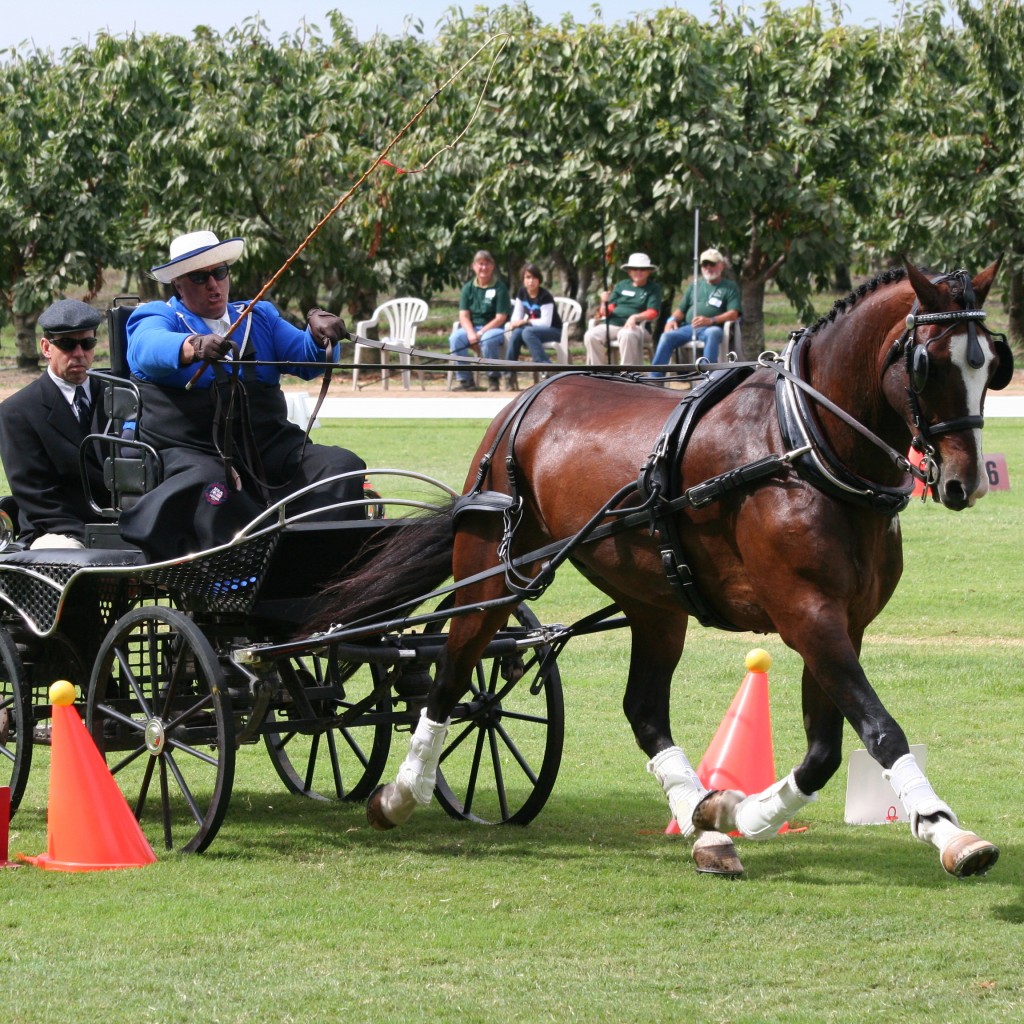 Diane Kastama, Arroyo Grande, CA Grade I.  In 1991 a car crash left Diane paralyzed from the waist down. Although a lifelong horse person and dressage enthusiast, riding without the use of her legs was not much fun and she soon turned to driven dressage and then the exciting sport of combined driving. Her relatives and friends thought she was crazy for taking on a sport that involves sitting atop a tall carriage, pulled by a horse going "hell-bent" for speed.
Diane started competing with her home bred Appaloosa's but now Diane competes with a pair of Section D Welsh Cobs, Rupert and George. She drives them single, pair and tandem. She competes against able-bodied drivers all over the Western United States and occasionally on the East Coast at the Intermediate and Advanced level. Diane has also demonstrated her skills at Rolex, KY, Horse Expo in Sacramento, the "Night of the Horse" in Del Mar. The Equine Affair and various therapeutic horse programs throughout California. She has also participated in the closing ceremonies at the 2006 World Equestrian Games in Aachen, Germany. Diane is always willing to share her skills and knowledge and bring driving to the forefront of equine sports.  Diane has been very succesful in international Para-Equestrian competition, coming home with an Individual Silver and Team Bronze driving a borrowed Welsh Cob Stallion in 2002 Greven, Germany.  2004 she place 5th with a borrowed Welsh cob in Endinburg, Scotland.  In 2006 she came home with Individual Gold driving her own Welsh cob gelding Jasper.  In 2008 Diane earned Individual Bronze and Team Silver driving Jasper once again.
About Para-Equestrian Driving (courtesy FEI)
Para-Equestrian Driving competitions are modeled on the ridden Three Day Event. It is a triathlon which tests the overall versatility of the driven horse. Modern Horse Driving Trials came into existence in 1968 when HRH Prince Philip of Great Britain initiated the formulation of the rules for the new sport. Prince Philip is a past President of the International Equestrian Federation (FEI) for able-bodied people in all equestrian disciplines.
The competition consists of three phases, spread over three or four days.
Day 1 Dressage
Driven dressage consists of a sequence of set movements driven from memory and using mainly the voice for control. Dressage displays the schooling and obedience of the horse.
Day 2 The Cross Country Marathon with Obstacles
There are three timed sections plus up to six challenging 'obstacles' to be driven at speed. The stamina of the horses and the horsemanship of the drivers are stretched to the very limit. This section gets the adrenaline pumping and the mud-flying. Carriage Driving is definitely not for the faint hearted.
Day 3 Cone Driving Competition against the clock.
Cone driving equates to the Show jumping phase of a ridden event. With only centimeters to spare, cone driving requires extreme accuracy on a tricky course, a steady hand, nerves of steel and a well trained horse.
Each phase of the Driving Trials tests the skill and the nerve of the driver and the fitness, obedience and suppleness of the horse. But above all it tests the bond of complete trust between them both.
Most carriage drivers with disabilities have, for one reason or another, found that riding is not physically possible for them. Their love of horses and their determination to participate in equestrian sport has led them to explore new and equally demanding and exciting equestrian challenges.
Great attention is given to all aspects of safety for the horse and the driver. At all times the driver is accompanied by at least one competent able-bodied person. Traditional elegance is expected, horses, drivers, grooms and carriages are all immaculately turned out.
Organization for this sport is very labor intensive requiring 30-40 volunteer Judges, Stewards, Time keepers, Scorers, Vets, Farriers and many others. However a carriage driving competition for disabled drivers can be easily integrated into a competition for able-bodied drivers. The first three World Championships have been held in conjunction with National Championships for able-bodied drivers in Wolfsburg, Germany in 1998, Stadl Paura, Austria in 2000, Greven, Germany in 2002 and also Hopetown, Scotland in 2004.
About the United States Driving for the Disabled, Inc.
United States Driving for the Disabled, Inc., a 501(c)(3) non-profit organization, seeks to improve the lives of physically challenged individuals throughout the United States and Canada by providing the experience of driving horses in a safe and challenging environment.  Our mission is to provide the extraordinary benefit of therapeutic driving to as many people as possible through sharing knowledge, experience, and serving as a resource for innovations in adaptive equipment for drivers, trainers, and programs offering carriage driving. The Sybil Dukehart Memorial Fund seeks to provide financial assistance to equip and train disabled drivers through providing scholarship funds to applicants.
USDFD fosters opportunities for drivers to compete in national and international amateur competitions by training and providing financial support for Team USA. For more information please visit www.USDFD.org.
Contact for the USDFD:
United States Driving for the Disabled, Inc.
32450 South Wright Rd.
Molalla, OR 97038
Ph: 503-550-9384
President: usdfdpresident@gmail.com
Offices: usdfd.org@gmail.com