Eleanor Brimmer
Grade III rider
Hometown: Wayazata, MN
Age: 26
Ellie is a Grade III rider with cerebral palsy. She grew up showing hunters and in 2009 made the switch to dressage. She holds a BA in American Culture from Randolph-Macon Woman's College and she is currently studying for her Masters in Library & Information Sciences from Wayne State University.
Horses: Vadico Interagro who is a 9 year old Lusitano gelding and Carino H (Holsteiner gelding) both owned by Eleanor Brimmer and Liza MacMillan.
Competitive Highlights: 2nd in the Team, Individual and Freestyle in Grade II competition at the 2011 CPEDI3* Dressage Affaire in Del Mar, CA.
Competed at the 2011 USEF Para-Equestrian Dressage National Championships held in Saugerties, NY on September 14-19, 2011. During this show Ellie competed on Vadico Interagro and Carino H.
Ellie can be found in Minnesota in the summer and training with Sabine Rijssenbeek of SR Dressage in Tucson, AZ in the winter.
Eleanor Brimmer on Facebook: http://www.facebook.com/EleanorBrimmerParaEquestrian
Eleanor Brimmer's Blog: http://eleanorbrimmerparaequestrian.blogspot.com/2012/01/young-rider-graduate-program-day-one.html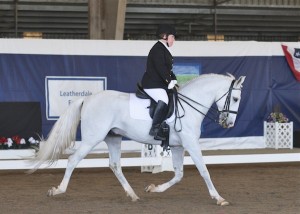 Excerpt from January 28, 2012 Press Release at the 2012 Wellington Dressage Sunshine Challenge CPEDI3*:
In the Grade III division, Eleanor Brimmer (USA) of Wayzata, MN and her Holsteiner gelding Carino H. Eleanor achieved a 61.111% completing a long awaited qualification score for the Paralympic Selection Trials.
"This has been a very long road for me," expressed Eleanor. "My first attempt at a CPEDI3* was two years ago with a different horse and I was bucked off while waiting to enter the arena. Since that aborted first attempt, I have been training intensely. While success in the show ring has been slow in coming, I feel that each trip makes me a better rider and stronger competitor. I'm really excited about the untapped potential I have with Carino, our best days are still ahead of us."
She continued, "I would really like to thank my Mother, Liza MacMillan who co-owns Carino with me, her faith in us as a combination means a lot to me. I'd also like to thank Roz Kinstler, who I had only met twice before coming down to Florida to work with her for the winter. It was a leap of faith on both our parts but thankfully the risk has paid off. In addition I would like to thank Pam Goodrich and her staff who have been responsible for Carino's care since he has arrived in Florida Their meticulous work has also been instrumental in my success."