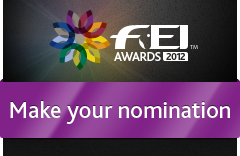 About the FEI Awards (courtesy of FEI)
Link to the awards: http://www.feiawards.org/
The FEI Awards were launched in 2009 to put a spotlight on the men, women, young people and organisations that are making an outstanding contribution to the progress and excellence of equestrian sport – in or out of the arena. Make your nominations now and let us roll out the red carpet for the stars of today and tomorrow.
The five FEI Awards categories are:
Best Groom, for that important person who works behind the scenes and ensures the horses he or she looks after are given the best possible care.
Against All Odds, for a person who has pursued his or her equestrian ambitions, despite a physical handicap or extremely difficult personal circumstances.
HSBC Rising Star, for a person aged 14 to 21 who demonstrates outstanding sporting talent and commitment.
Development, for a person or organisation dedicated to making equestrian sport accessible to a wider public.
Reem Acra Best Athlete, for the athlete (equine or human) or combination that, over the past year, has demonstrated exceptional skill in the arena and taken the sport to a new level.
The nominations
Nominations in five categories are open to the equestrian community worldwide
A jury of international experts chaired by FEI President HRH Princess Haya will select the winners
Deadline for nominations: 31 July 2012
The ceremony
Winners will be flown to Istanbul (TUR) to receive their awards. The FEI Awards Ceremony will take place during a gala dinner on 8 November and will be attended by representatives from the 132 National Federations affiliated to the FEI.