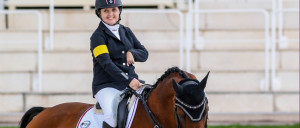 The international governing body of all Olympic equestrian sports, the Fédération Equestre Internationale (FEI), has released the current Para-Equestrian Dressage tests for all grade levels.  You may visit their site by clicking here. Or, listed below are each PDF for you to download.
You may contact Anna Milne at the FEI for additional tests by emailing her at anna.milne@fei.org.
For additional questions or concerns please contact Hope Hand at wheeler966@aol.com.
Link to the FEI site: http://www.fei.org/disciplines/officials-organisers/organisers/para-equestrian-dressage/dressage-tests
Para-Equestrian Dressage Tests
For any 2009 test, please contact Anna Milne at the FEI HQ.
PARA DRESSAGE RULES