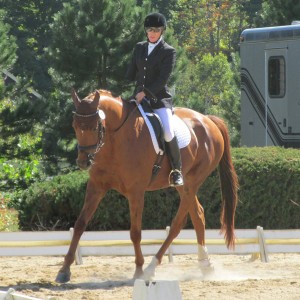 Holly Jacobson Ipswich, MA
Impressed by the level of riding, rider commitment and amazing horses, she first saw covering the 2009 USEF Para National Championships at Lamplight as a reporter, Holly crossed over from jumping and competing in the hunter ranks.
In 1986, injuries from a carfire resulted in amputations of Holly's right arm above the elbow and all the fingers on her left hand, nerve damage in her right leg, plus severe facial scarring.
At the 2011 Para clinic at Carlisle Academy Therapeutic & Sports Program in Maine, she met
Tito, a Lipzzan, owned by Cyndy West, who subsequently loaned him for weekly lessons. She
also leased and showed a fun, pint-sized Dutch-bred gelding named Nazar at several rated shows.
Holly is currently fund raising and looking for a suitable horse to start showing the Grade III
tests. "I believe para dressage serves as an outstanding role model to the dressage community and public at large to see past stereotypes of disability. To that end, I think competing against able-bodied riders, doing presentations and promoting Para are essential to the cause."
Holly is also a USEF Para affiliate board member and writes regularly on Para topics for
DressageDaily.com, NEDA's Tip of the Hat and other publications.