Interested in Joining the USPEA?
If you are willing to challenge yourself, becoming a para-equestrian is for you.  Each para-equestrian has a different story.  A portion of riders became para-equestrians after riding at a therapeutic riding center, a number of para-equestrians have been riding their entire life, and a few of the riders never rode before they began using horses as physical therapy.  Imagine competing at the Olympics, representing your country in front of millions.
If you would like to become a member please click on the "Become a Member" button located on bottom of this website. Once you click on the button you will be directed to a form to pay the $35 annual membership fee via PayPal or Credit Card. To complete your membership you will be directed to a form where you will input your name and e-mail. Then you will be directed to a thank you page.
As a member of the United States Para-Equestrian Association you will first receive a lapel pin. One of the most valuable members-only items is that you will not have to pay for USPEA clinics under professional dressage masters. For example, a recent Para-Equestrian Dressage Clinic was given by Debbie MacDonald. Members of the USPEA were allowed to have the clinic under Debbie because it was sponsored by the Dressage Affaire horse show and the USPEA. In addition, as a member you can open up an athlete account for individual fundraising. Once USPEA receives your membership you will receive a grant package in the mail to find out how to gain reimbursements. Lastly, as a member you will receive news about the Para-Equestrian Team first and you will be given the inside details on all upcoming clinics and horse shows
If you are interested in receiving information or becoming a para-equestrian or have questions or comments please contact Hope Hand: wheeler966@aol.com
To become a member of the USPEA the membership donation is $35.  This amount will give you full access to all USPEA member activities, clinics, and information on the United States Para-Equestrians.
You may mail the $35 member donation to:
USPEA
3940 Verde Vista Drive
Thousand Oaks, CA 91360
*Please include your information such as Name, DOB, Discipline, Region, Address, Phone Number, e-mail, and anything else you would like to include such as a biography.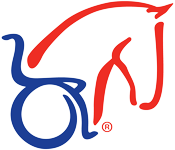 About the USPEA:
The United States Para-Equestrian Association (USPEA) includes every recognized equestrian discipline that is practiced by athletes with an eligible physical impairment with a focus on Paralympic Equestrian Sports. . The USPEA is a network of current and past athletes, owners, officials, event organizers, and equestrian enthusiasts. The Association assists athletes to get involved and expand their knowledge and experience in the Disciplines of Para-Equestrian.
USPEA was created to fill a need to assist Para Equestrian disciplines when they came under the governance of the FEI. While Para Equestrian disciplines were originally segregated, they now are integrated in international sport. As each individual Para Equestrian discipline develops, it is USPEA's mission to always serve as an advisory resource with the ultimate goal that the established able-bodied discipline affiliate will integrate within their organization.
In 2010, the USPEA earned its 501 (c)(3) status and became a recognized International affiliate association of the United States Equestrian Federation (USEF) working together to grow the FEI recognized disciplines by helping to provide press, educational information, symposiums and competition opportunities for athletes with eligible physical impairments.
Mission Statement
To Help Develop, Promote, Support, and Sustain all USA Para Equestrian Athletes for Regional, National, and International Competition with a focus on Paralympic Equestrian Sport.
Vision Statement
The vision of the United States Para Equestrian Association (USPEA) is to provide leadership for equestrian sport in the United States of America for athletes with an eligible physical impairment, promoting the pursuit of excellence from the grass roots to the Paralympic Games, based on a foundation of fair, safe competition and the welfare of its horses, and embracing this vision, to be the best national Para Equestrian Association in the world.
USPEA Promotional Video:
Although a Para-Equestrian may participate in any discipline, the two disciplines currently recognized by the U.S. are Para-Dressage and Para-Driving. Para-Jumping has become more recognized around the world as popularity grows. During the Paralympics which occurs alongside the summer Olympics, the only discipline that competes is Para-Dressage. Riders are encourage to try all disciplines.
PARA-EQUESTRIAN DRESSAGE
Para-Equestrian Dressage is the only equestrian discipline that is included in the Paralympic Games, where it has been a regular fixture since 1996. With the idea of creating opportunities for all people with disabilities to compete and achieve their goals in equestrian sport, athletes are classified according to the level of their disability/impairment so as to provide for meaningful competition. In 2006, the Para-Equestrian sport joined the ranks of the other 7 disciplines regulated by the FEI, with national and international competitions for Dressage and Driving for individuals with a disability. This led to the FEI becoming the first, and still the only, International Federation to govern and regulate a sport for both the able bodied and disabled athletes.
How Para-Equestrian Grades relate to United States Dressage Federation levels:
•    FEI PE Grade Ia is equivalent to Introductory Level.
•    FEI PE Grade Ib is equivalent to Training Level
•    FEI PE Grade II is equivalent to First Level.
•    FEI PE Grade III is equivalent to Second Level.
•    FEI PE Grade IV is equivalent to Third Level.
Information on competing at USDF events as a Para-Dressage rider. Click here.
Competition Venue and Testing
All rules and regulations with regards to competition venues and testing are governed by the same principles as other disciplines. The General Regulations, Statutes and Discipline rules that are available on this site apply. The formula for the shows is the same as for standard Dressage shows with Freestyle tests and also tests where the athletes follow a set program.
Classification
The competitor's mobility, strength and coordination are assessed in order to establish their Classification Profile. People with similar functional ability Profiles are grouped into competition Grades. The Grades range from for the most severely impaired, to Grade IV for the least impaired. The competition within each Grade can therefore be judged on the skill of the individual competitor on their horse, regardless of the competitor's disability.
Below are few documents that explain Classifications and the application process:
-Classification Manual updated 02.10.2009
-Application procedure to use Compensatory aids in FEI Dressage Competitions (CDIs)
For more information about Para-Driving please visit www.USPEA.org/Para-Disciplines