Lara Oles
Grade: III
Website: www.lope.org
About Lara:
Age: 47 years old
Contact/Home: Utah; lara.n.dan@gmail.com
Personal:  Lara sustained a spinal cord injury from a skiing accident in 2006.  Lara works full time and lives with her husband, Dan and lots of furry kids.
Riding History:  Lara was a rider in high school and took lessons in dressage and jumping.  Her first horse was an OTTB that Lara trained for dressage.  An injury to her horse sidelined her dressage competitions and she spent the next 18 years trail riding.  In 2010 Lara attended the WEG in Kentucky and was so inspired by the athletes she decided to start riding again.  This led her to the National Abilities Center, a therapeutic riding program in Utah.  After a year of riding, the NAC staff nominated Lara and she won the 2011 PATH, Intl Independent Adult Equestrian of the Year.
In 2012, Lara focused her goals on competitive riding.  She attended Carlisle Academy's 2012 Para-Dressage Camp, and the Dressage Affaire CPEDI3* in California where she was classified as a Grade III rider.  She discovered a great dressage facility in Heber City, Utah and started training with Annie Sweet.  Lara was lucky to find and buy Slate, a great moving, sensible Quarter Horse who has adjusted well to Lara using one hand.  She and her husband both got new jobs and relocated to be closer to Slate and Annie.
Goals:
Lara started showing Slate in the spring of 2013 at a USEF recognized Dressage show, and won 3 of her first 4 classes.  She plans to get as much experience as possible at local recognized shows so that she can be ready for the 2014 CPEDI3* WEG qualifier in California.  She would love to represent the United States in Normandy, or in Rio at the 2016 Paralympics.
For more information on Lara visit www.lope.org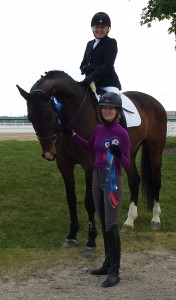 Utah Para Equestrian Wins at the Idaho Dressage Festival
Nampa, Idaho – May 18, 2014- Lara Oles, Utah's first internationally classified para equestrian competed at the 10th Annual Idaho Dressage Festival, bringing home two first places and a high point championship. This included a 68.3% in Training Level Test 3, which is a qualifying score for Regionals.  Because there were no para classes at the show, Lara competed against able-bodied competitors, so winning both of her classes is remarkable.
Lara purchased Bella, her Canadian Warmblood mare, in February of this year.  This was their first show together, and they wowed those in attendance. "Bella has been perfectly behaved even though the last time she showed was in 2008. We couldn't be happier!" said Oles.
Lara was in a freak skiing accident in 2006 that damaged her spinal cord, leaving her right arm permanently paralyzed and stroke- like symptoms in her right leg.
Lara and Bella will continue competing throughout the 2014 season and will start riding the International Grade III para dressage tests. Her ultimate goal is to represent the United States at the 2016 Summer Paralympics in Rio de Janeiro, Brazil.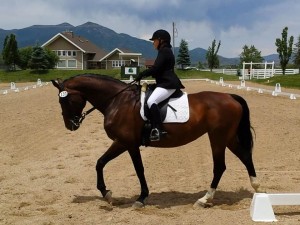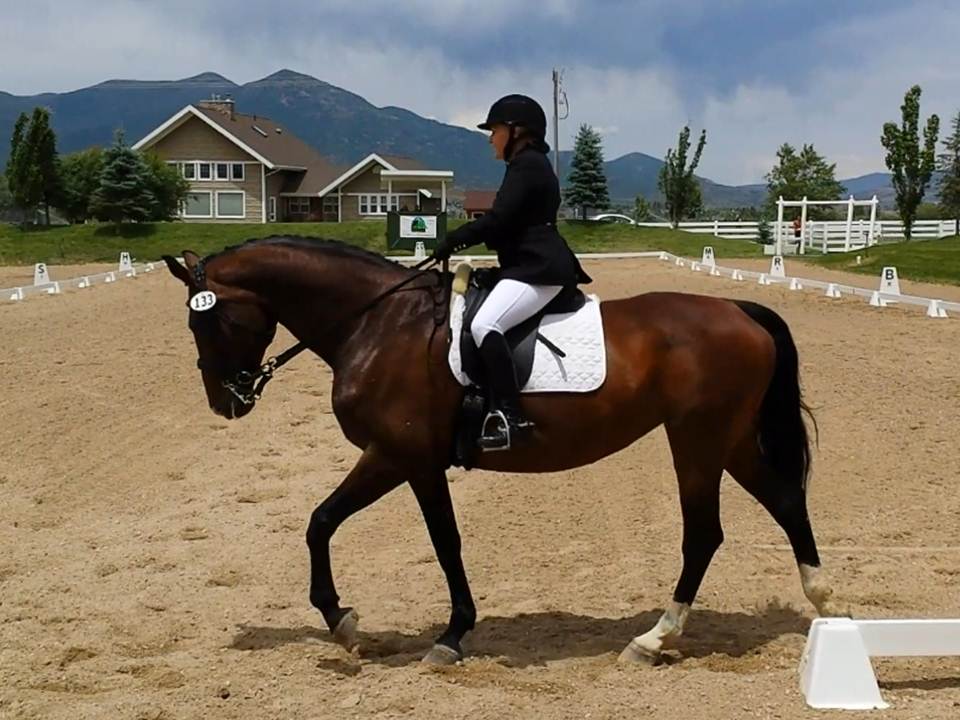 Many Firsts for Two Utah Para Equestrians
Heber, Utah – June 21, 2014-  Lara Oles and Cambry Kaylor, Utah's only internationally classified Para Equestrians competed at the Sage Creek Equestrian II Dressage Show on Saturday. Both rode well and earned high scores towards their United States Equestrian Federation ranking.
While Oles competed on her other horse last year, this was her first time showing the FEI Grade III Para Dressage tests on her new horse, a Canadian Warmblood mare named Bella. Her highest score of the day was a 68.2%, which was good enough to win the high point championship for the adult amateur division.
Kaylor made her debut as a Grade 1B Para Dressage rider, but this was not her horse's first competition. Kaylor's horse, Markgards Donnewind, a Danish Warmblood, had competed in many Para Dressage shows in Europe with his previous owner. Kaylor and Donnewind's first competition together resulted in a score of 62.5%.
Coincidentally, Saturday was the ninth anniversary of the equestrian vaulting accident that severed Kaylor's spinal cord and left her without the use of her legs. Oles was in a freak skiing accident in 2006 that damaged her spinal cord, leaving her right arm permanently paralyzed and stroke- like symptoms in her right leg.
For both riders the competition at Sage Creek Equestrian provided experience to accomplish their ultimate goal of representing the United States at the 2016 Summer Paralympics to be held in Rio de Janeiro, Brazil.