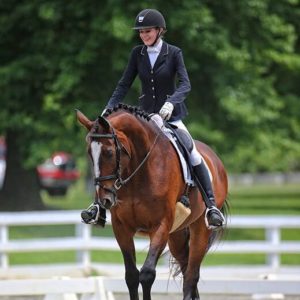 Riley Garrett
Biography
Date of Birth:  July 11, 2000
Birthplace:  West Chester, PA
Hometown:  Chester Springs, PA
Height:  5'9
Parents:  Ellen & John Garrett
Siblings:  Kendall(1998), Chandler (2003)
Education:  Junior at Downingtown East High School, Exton, PA
Sport:  Para-Dressage Grade III
Riley Garrett was born with a rare form of Muscular Dystrophy, Bethlem Myopathy. Bethlem Myopathy is a rare disease affecting the skeletal muscles and connective tissue.  The disease is characterized by progressive muscle weakness and joint stiffness(contractures) in the fingers, wrists, elbows and ankles.  Riley's contractures prevent her from straightening her arms and the contractures prevent her from bending to touch her toes.  What began as a type of "physical" therapy for Riley evolved into her life long passion for riding.
Riley's enthusiasm for riding began at the age of 6.  It was in Saratoga Springs, NY that Riley sat on her first thoroughbred.  From that moment on, Riley would never be without a horse in her life.  With the encouragement from long time family friend and President of the Para-Equestrian Association,  Hope Hand, Riley began taking lessons at Thorncroft Equestrian Center.  At Thorncroft, Riley learned how to accommodate her disability, strengthen her muscles and to use braces to give her more support.  At the age of 12, Riley competed in her first schooling show and fell in love with the drive to compete and succeed.  In September of  2017, at Tryon Fall Dressage Para-Equestrian National Championship, Riley won 2nd place on Friday and Saturday, First place on Sunday and 5th place overall for the whole competition.   In addition to placing,
Riley also received the Lloyd Landkamer Memorial Para-Dressage Sportsmanship award.
Clinics
2015-2016: Riley trained under Rolex Eventer Missy Ransehousen and Olympian Jessica Ransehousen at Blue Hill farm, developing her technique in Classical Dressage. It was at Blue Hill farm that Riley participated in Clinics held by Clive Milkins from Canada.
2016: November, participated in a clinic at Kai Handt  Northern Texas Equestrian Center, in Tyler Texas, under the guidance of David Amager, of Denmark.
Clinics
2017: April, Riley participated in a clinic at Hassler Dressage at Riverdale in Chesapeake City, Maryland  with Susanne Von Dietze Pollak.
2017: May, Trained at Carlisle Academy and Para-Dressage Center of Excellence Para Dressage Symposium, clinic with Michel Assouline, USEF Head of Para-Equestrian Coach Development and High Performance Consultant.
2017: July, participated in clinic at Straight Forward Dressage, in Glenmoore, Pennsylvania, with Jeanne McDonald, Anne Moss and Cara Klothe.
2017: September, clinic at Nationals, Tryon, North Carolina.  Michel Assouline, USEF Head Para Equestrian Coach.  Focused on technique and performance at Nationals.
2017: October, clinic at USET Training Facility in Gladstone, New Jersey. Training with Michel Assouline, Head of Para-Equestrian Coach
Development and High Performance Consultant.
Competitions
6/3/16- Para Nationals, Waterloo Hunt Club in Michigan
2016 Grade 2.  Winner in National division.
5/27/17-New Jersey Horse Park
ESDCTA Memorial Weekend Dressage Competition
Grade 3 Team Test, IND, CHAMP Freestyle.  Scored in high 60's.  First Place.
6/24/17-PVDA Ride for Life Show
Upper Marlboro, Maryland.  Scored high 60's.  Grade 3.
First Place
7/14/17-Dressage at Lexington, VA. Scored in high 60's.  Grade 3.  First Place.
8/18/17-Centerline Events at Hits on the Hudson, Saugerties, New York. Scored 71.  Grade 3.  First Place.
9/14/17-Tryon Fall Dressage, Para-Equestrian National Championship, Tryon, North Carolina.  CPEDI ✮✮✮ event.  Won 2nd place, Friday and Saturday.  First place on Sunday.  Won 5th place overall for entire competition.
10/23/17-  Adequan/USDF Final Award, Para-Dressage Rider of the Year Award.
Current Competition Horse:
Piston
2003 Canadian Warmblood gelding.
In Riley's spare time she can be found working at La Chic Boutique,  the local clothing store.  Riley is also a wonderful student and maintains a high grade point average.  Riley hopes to continue her education by attending college someday.
Riley's Coach, Angie Bean had this to say about Riley:  "I have been working with Riley since Spring of 2016, and despite her young age, she has proven to have an excellent mind for the sport of dressage.   Riley's strong dedication to the techniques, and her solid work ethic have created significant progress in her riding.  Additionally, she is a team player, helping out everyone in the barn, and is right there to celebrate or commiserate with anyone in our group.  In short, she is not only a quality rider, but is growing into a well rounded young lady."